The Committee on Natural Resources Office of Insular Affairs will hold a hybrid oversight hearing on "PROMESA and LUMA Energy's Contract." Scheduled for Thursday, September 22, 2022, at 10:00 a.m. ET, in room 1324 Longworth House Office Building and via Cisco Webex, the hearing has been postponed because of the catastrophic damage from Hurricane Fiona.
The hearing will feature testimony from key stakeholders regarding the implementation of the Puerto Rico Oversight, Management, and Economic Stability Act (PROMESA) and discuss H.R. 7409 – TRUST for Puerto Rico Act to dissolve the Oversight Board. The hearing will also examine LUMA Energy's contract to manage, operate, and rebuild Puerto Rico's electric power transmission and distribution system.
Witnesses:
Panel I:
PROMESA
and H.R. 7409
Pedro Pierluisi, Governor of Puerto Rico
José Luis Dalmau, President, Puerto Rico Senate
Rafael "Tatito" Hernández, Speaker, Puerto Rico House of Representatives
David A. Skeel Jr, Chair, Financial Oversight and Management Board
Jessica E. Méndez-Colberg, Attorney, Bufete Emmanuelli, C.S.P.
Cecille Blondet, Executive Director, Espacios Abiertos
Maryln Goyco-García, Puerto Rico Campaign Coordinator, Center for Popular Democracy
Panel II:
LUMA
Energy's Contract
Fermín Fontanés, Executive Director, Puerto Rico Public-Private Partnerships Authority
Josué Colón, Executive Director, Puerto Rico Electric Power Authority
Edison Avilés-Deliz, Chair, Puerto Rico Energy Bureau
Wayne Stensby, President &

CEO

, LUMA Energy Corporation
Ruth Santiago, Attorney & Environmental Policy Expert
Ingrid Vila Biaggi, President,

CAMBIO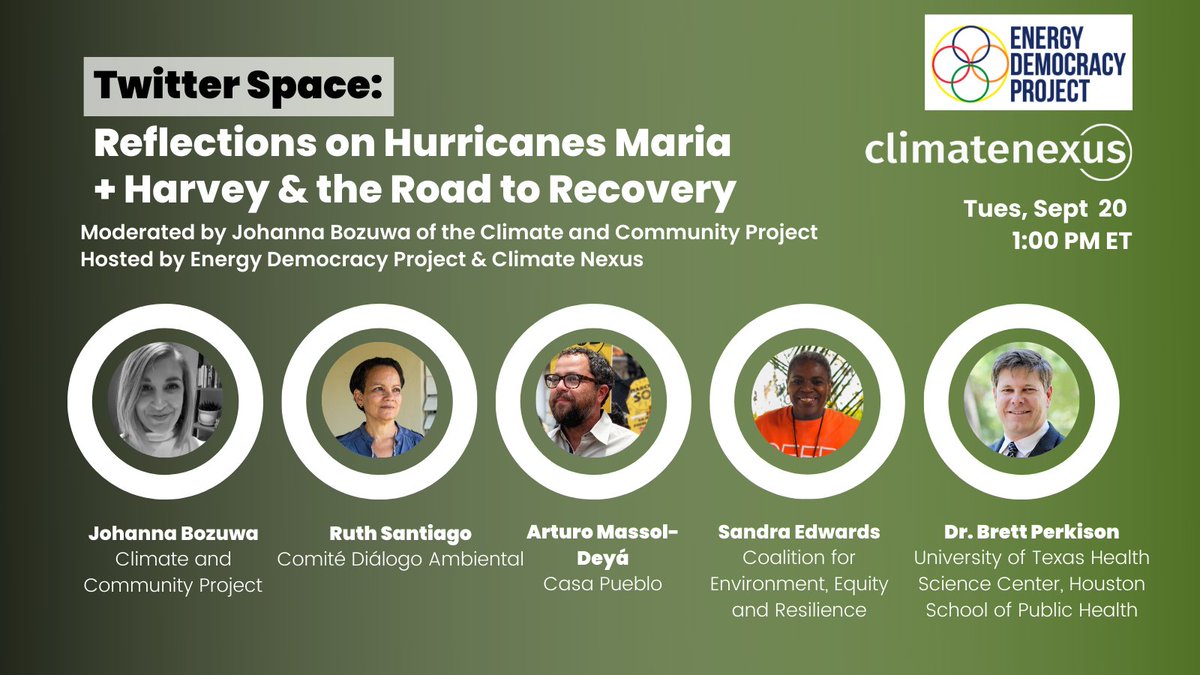 Over a million Puerto Ricans remain without electricity following Hurricane Fiona. For a timely conversation, join a Twitter space — hosted by Climate Nexus and the Energy Democracy Project — for Reflections on Hurricanes Maria + Harvey & the Road to Recovery.
Speakers:
Johanna Bozuwa, Climate and Community Project
Ruth Santiago, Comité Diálogo Ambiental
Arturo Massol-Deyá, Casa Pueblo
Sandra Edwards, Coalition for Environment, Equity and Resilience
Dr. Brett Perkison, University of Texas Health Science Center, Houston School of Public Health