Power Up: A Climate Reality Training on Advocacy in Action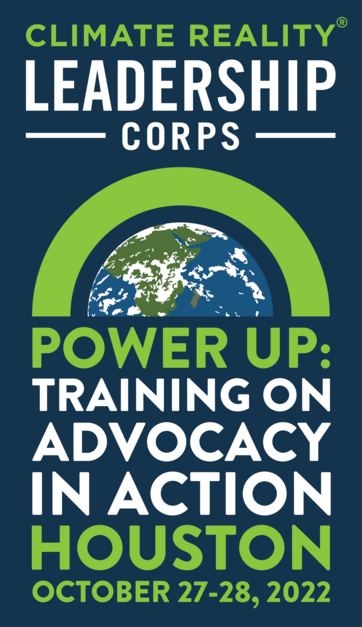 From October 27-28 in Houston, Texas – The Climate Reality Project and former Vice President Al Gore will host the first Power Up: A Climate Reality Training on Advocacy in Action for climate activists across the US Gulf Coast.
The Gulf Coast has been targeted for continued investments in oil and gas refineries and pipelines that bring the very worst health impacts to communities of color, low-income neighborhoods, and other communities at the frontlines of the climate crisis and the racial inequity crisis.
We are coming together to say enough is enough. Communities, social justice organizations, policymakers, and businesses in the Gulf South states are embracing climate solutions that support community resilience and promise a just transition to a clean energy economy that centers equity and prioritizes people over profits.
This free two-day training provides those ready to make a difference with the tools, knowledge, and networks to mobilize their communities and drive real action for climate justice solutions.
The training gives attendees an opportunity to learn about the current state of the climate crisis in the Gulf South, to hear directly from organizations leading on the frontlines of a just and equitable transition, and to build local power to advance climate solutions. The training will also highlight the work of inspiring local leaders from regional civil rights and environmental justice groups who are mobilizing their communities to fight against polluting industries and racial injustice.