Facing the Climate Emergency Book Launch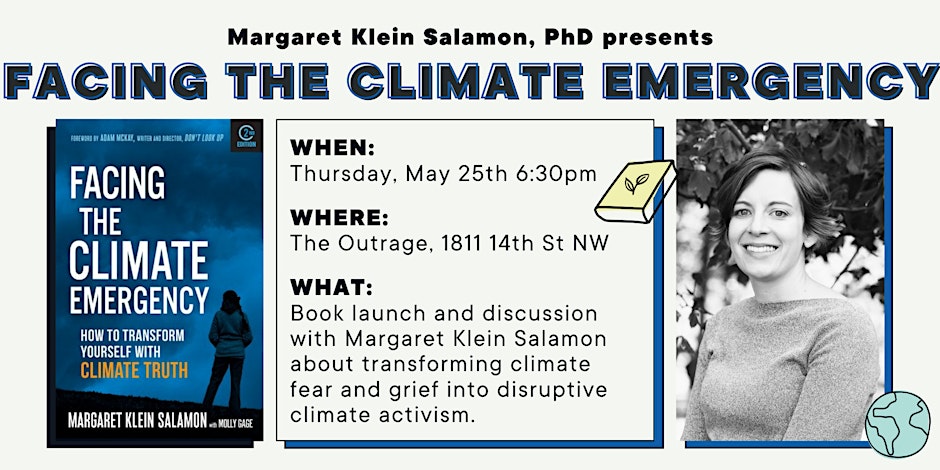 Join us for the release of Facing the Climate Emergency + discussion with author Margaret Klein Salamon and journalist Roberta Baskin.
About the Book —
Facing the Climate Emergency: How to Transform Yourself with Climate Truth
A lifeline for those suffering from climate anxiety, Facing the Climate Emergency combines Salamon's expertise in clinical psychology and disruptive climate activism to help readers transform their fear and grief into courage and heroism.
This beloved self-help book provides emphatic guidance for the overwhelmed and concrete strategies for tackling anxiety and other painful climate emotions. Facing the Climate Emergency offers inspiring portraits of ordinary people who are striking school, throwing soup onto paintings, and otherwise disrupting normalcy in order to raise the alarm and create rapid policy change.
Facing the Climate Emergency helps people. That's why writer and director Adam McKay writes in the foreword to the 2nd edition, "I hope this book becomes as ubiquitous as the Heimlich maneuver in restaurants."
About the Speakers —
Margaret Klein Salamon, Ph.D, is the executive director of the Climate Emergency Fund, which raises and grants millions of dollars to nonviolent disruptive climate activists. A graduate of Harvard with a Ph.D. from Adelphi University, Margaret brings her psychological expertise to all of her climate work. As founder of the grassroots advocacy group Climate Mobilization, she spearheaded the campaign for governments to acknowledge the climate emergency through an official declaration. A climate emergency has now been declared by over 2,270 global governments, comprising more than 1 billion of the world's citizens. Her Climate Awakening project facilitates hundreds of virtual and in-person small-group conversations, helping people transform their fear, rage, and despair into effective action.
Roberta Baskin spent more than 30 years as an awarding-winning investigative reporter at CBS News, ABC news, & PBS exposing stories of injustices. Roberta's storied career garnered more than 75 journalism awards, including three duPont Columbia Awards, two Peabody Awards, and multiple Emmys. Her investigations reformed injustices and improved dozens of health and safety products and practices. She now serves on five non-profit boards dedicated to climate justice and solutions to socio-economic divides.